St. Wilfrid's Annual Community BBQ 2023 Success!
Thank you to everyone who joined our annual community BBQ this June 24th, 2023. It was wonderful to see all of your faces in such a long time.
The raffle fundraiser was a big success! Congratulations to our winners this year, which are listed below. Please bring your ticket stub to the office to claim your prize.
None of this would have been made possible without our generous sponsors and helpers. Special thanks go to the following companies, groups, and individuals: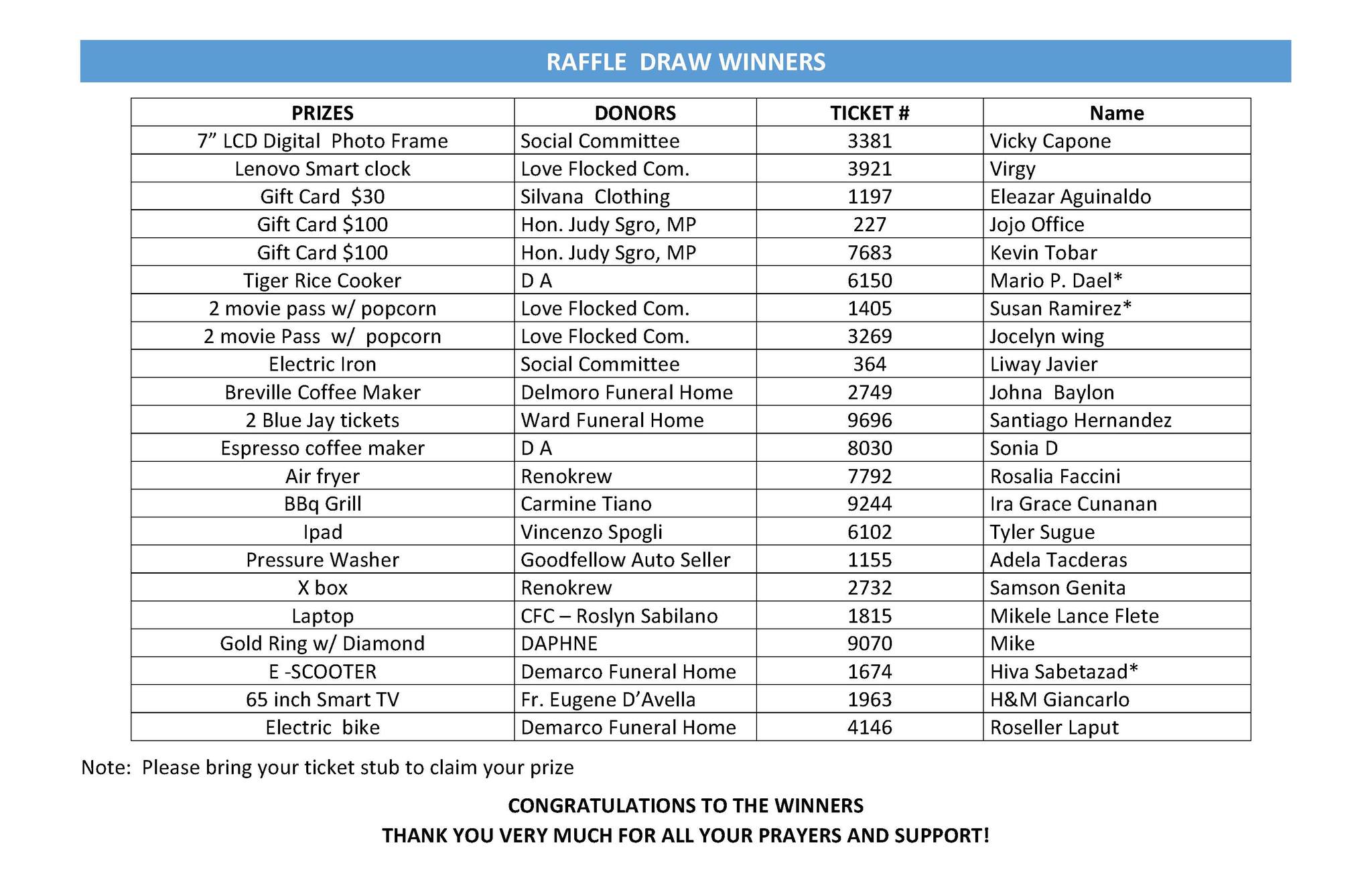 DEMARCO FUNERAL HOME
EUGENE D'AVELLA
GOOD FELLOW AUTO WHOLE SELLERS
RENOKREW
WARD FUNERAL HOME
CARMINE TIANO
VINCENZO SPOGLI
HON. JUDY SGRO, M.P.
DAPHNE
LANZAROTTA WHOLESALE- SERGIO TENUTA
SILVANA CLOTHING
TRESPECES/CORPUZ/DAGUIO FAMILIES
LOVE FLOCKED COMMUNITY
SETTI CUCINA – FRANK FUDA
FRESCO-MICHAEL
HERO BURGERS
REA SAUSAGES
NO FRILLS(JANE/FINCH)
METRO (KEELE/WILSON, KEELE/LAWRENCE,
SHEPPARD/BATHURST)
COUPLES FOR CHRIST
ROSLYN SABILANO
SENIORS' GROUP
HANDMAIDS OF THE LORD
EL SHADDAI GROUP
DELMORO FUNERAL HOME
HERO BURGERS
LIUNA LOCAL 183
PARISH COUNCIL
FINANCE COUNCIL
LECTORS
EXTRA EUCHARISTIC MINISTERS
YOUTH GROUP
ALTAR SERVERS
SOCIAL COMMITTEE
USHERS
ALL PARISHIONERS
Thank you all again for enjoying this special event with us, and we hope to see you next year!